Connections/ Disconnected
Inspired by David Foster Wallace, his book Infinite Jest, as well as his other work. He was a national treasure who left this planet way too soon.
Exit Wounds
Painted for the Dark Love group show which was held at 400 W. Rich in Columbus, OH on Feb 14, 2014.
acrylic on found wood, spray paint, shooting range targets
The Alchemist
Inspired by a friend who's an amazing artist in her own right.
acrylic on found wood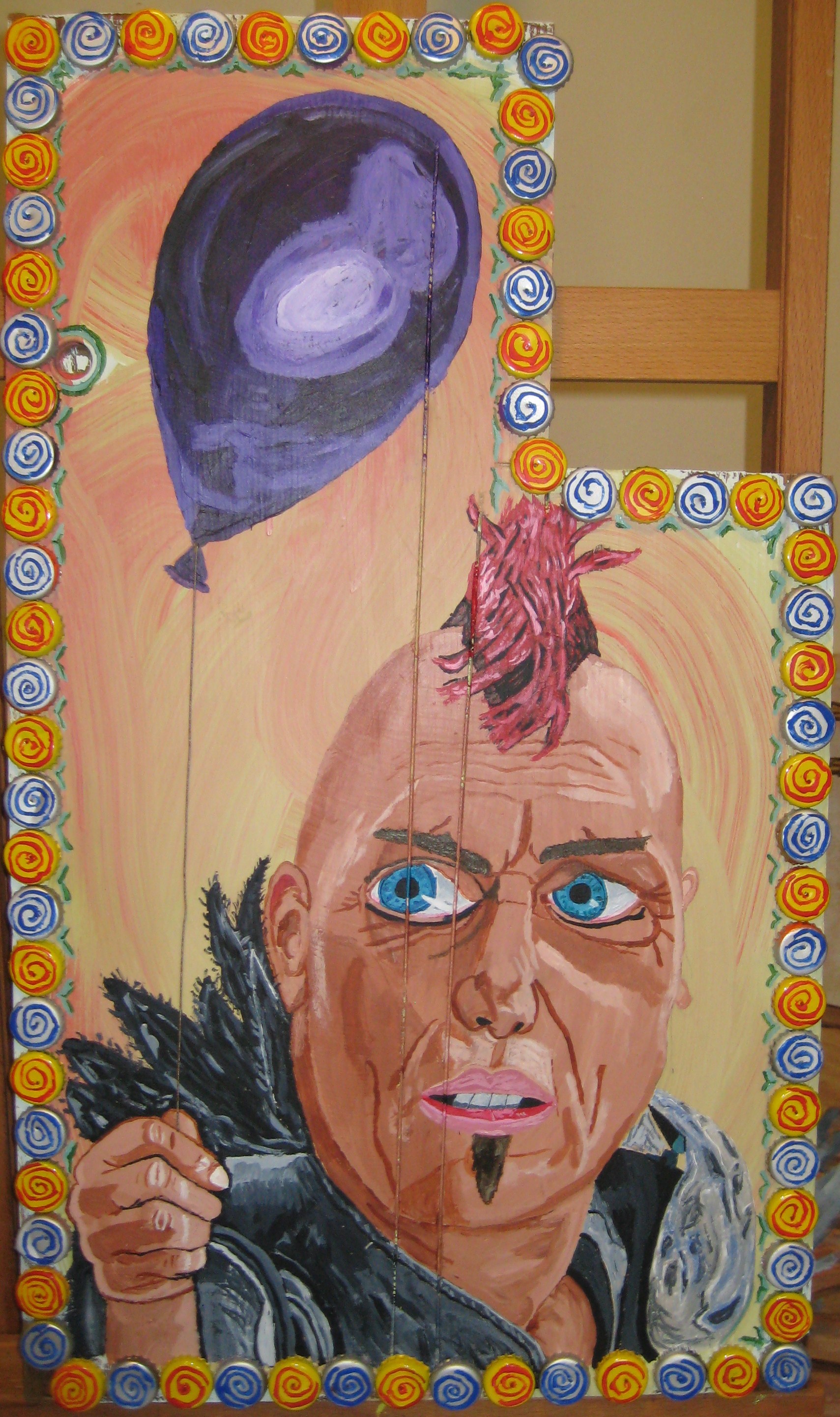 Everybody Loves a Balloon
It's The Wez.
Nuff said!
acrylic on found wood, bottle caps, spray paint, guitar string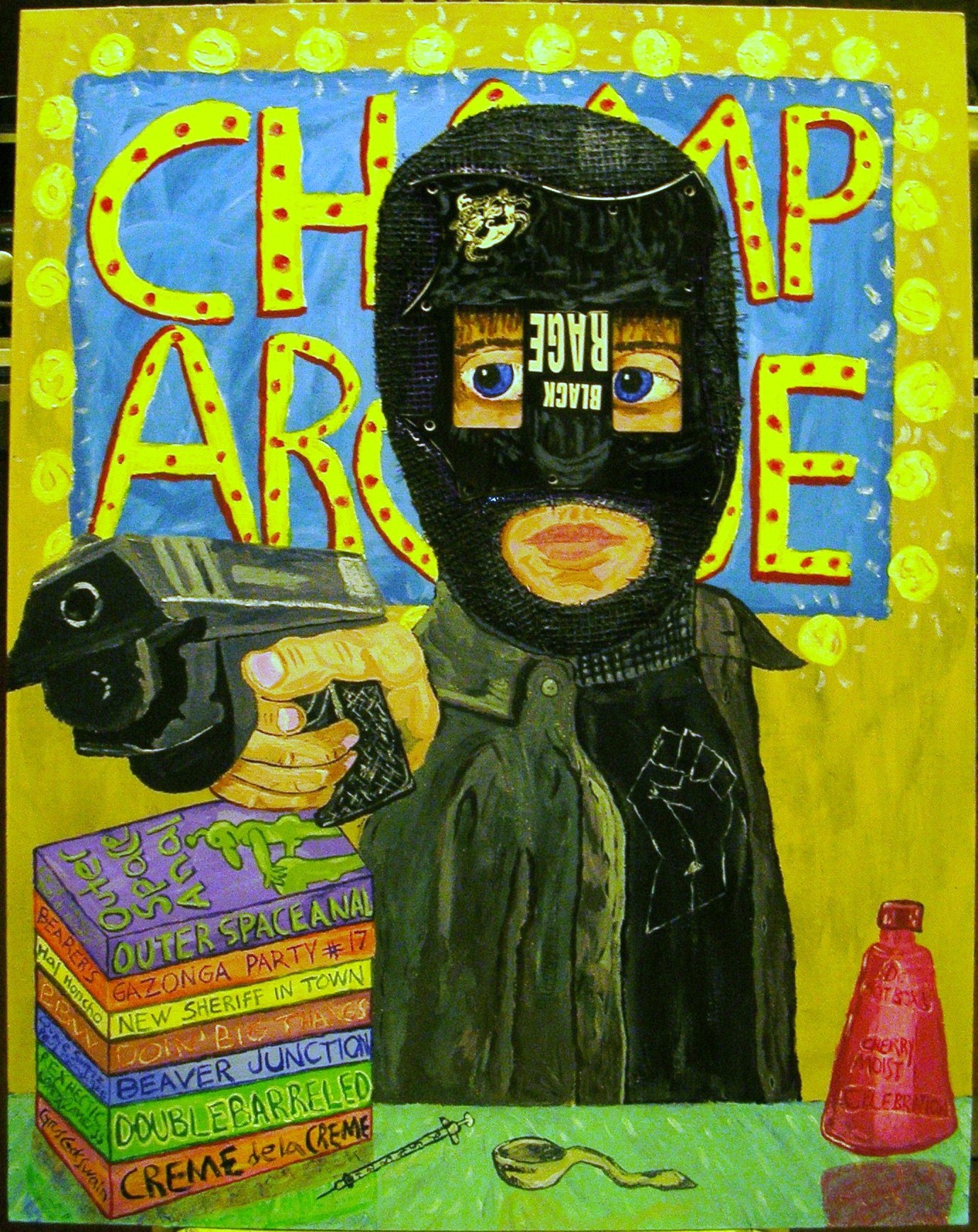 Arcade Livin', Motherfucker! Champ, Son! What!?!
Inspired by the book In Case We Die, written by Danny Bland.
acrylic on found wood, onion bags, & a pick guard to an Epiphone SG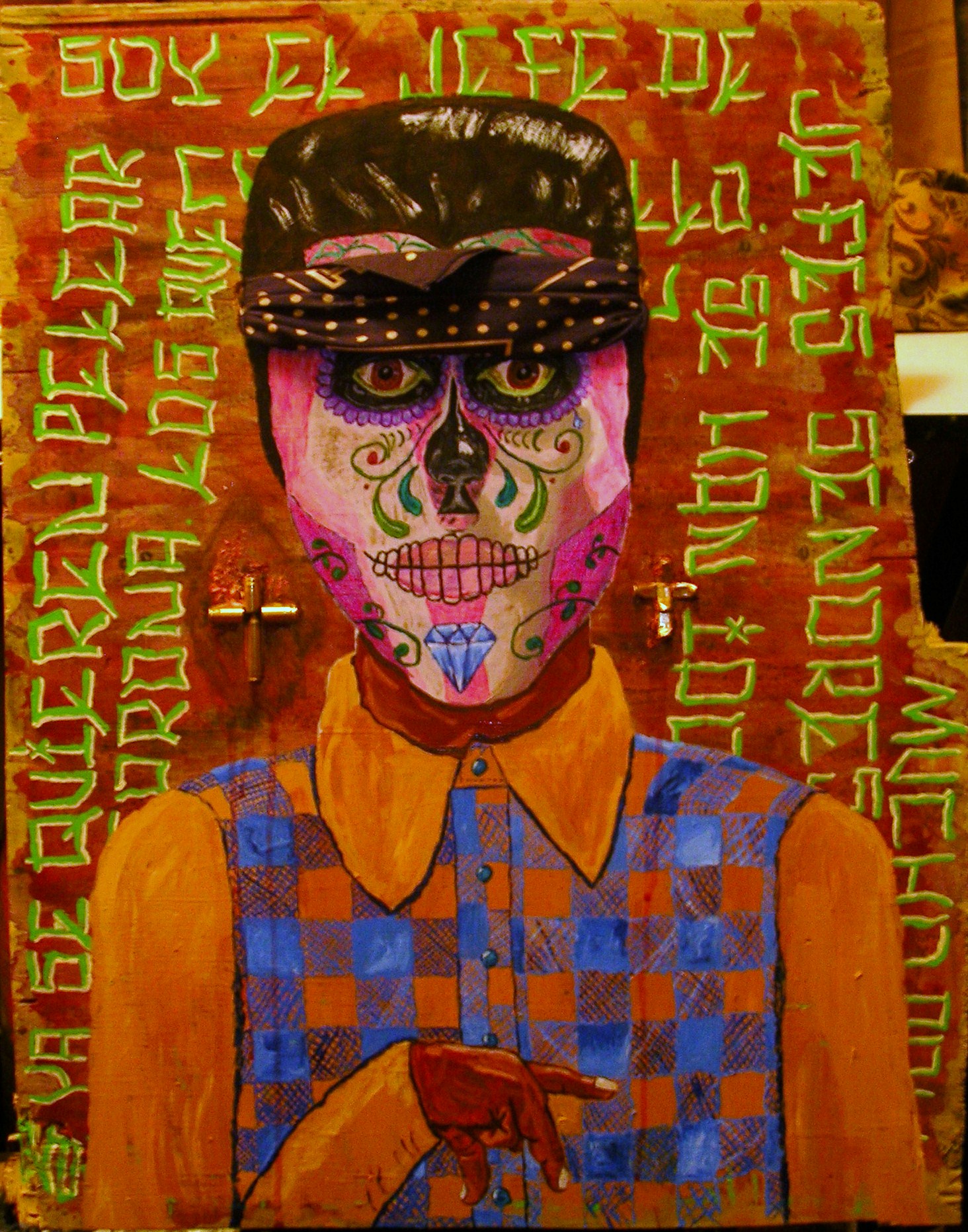 Peligroso
Inspired by narco-corrido music.
acrylic on found wood, shell casings, & an unwashed bandana I've worn during many drumming gigs
Negocio del Mono Muerto
Inspired by a chef pal.
acrylic on found wood
3rd Ward Deacon
Inspired by Lightnin' Hopkins.
acrylic & spray paint on found wood
Hanuman Watches Over
Inspired by friends who were expecting their first child.
acrylic on found wood
A Cavalcade of Bad Decisions Comes to a Head
Inspired by decisions to change and Oliver Reed.
acrylic on found wood
Giant Grover Gets High as Fuck on PCP and Wiles Out on Rambo's Favorite Fishing Getaway
acrylic on a dirty old found thrift store painting, Biggie Smalls & Rambo stickers, eye from my Dane's 1st toy
Fun Fun Fun #4
Inspired by Hogan's Heroes.
acrylic on found wood
The Original Seed
portrait of a young Jay Adams
acrylic on a broken section of a skate deck I found in the street
Miss You, Big Man
Painted for a pal who was good friends with Michael Burks who passed away in 2012.
acrylic on the back of an Epiphone SG body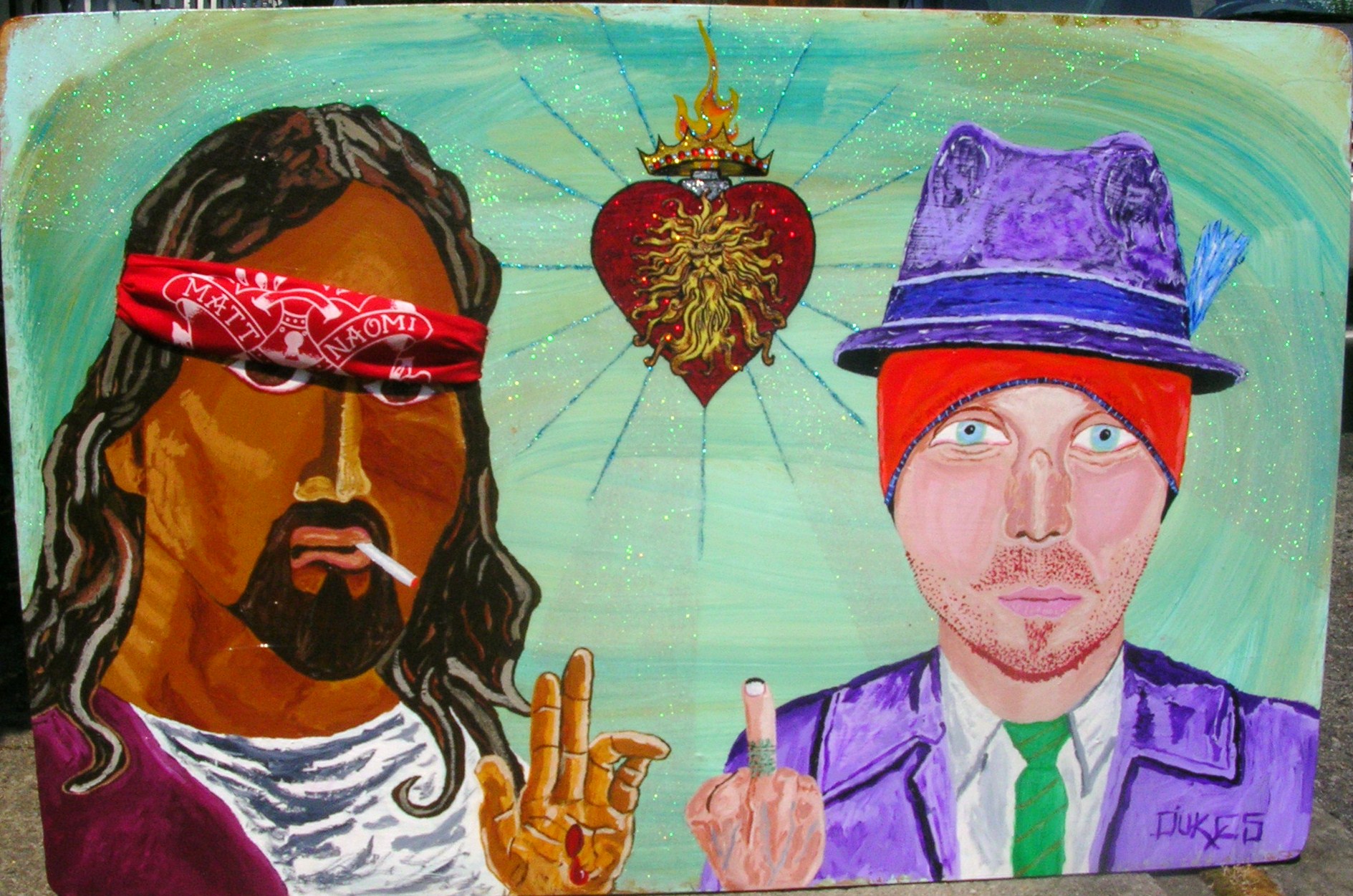 Jesus and Jason Jesse Bless Soulmates' Local #DTK
Collaboration w/ my special lady friend for a wedding present gift.
acrylic on found wood, bandana, skateboard graphic, glitter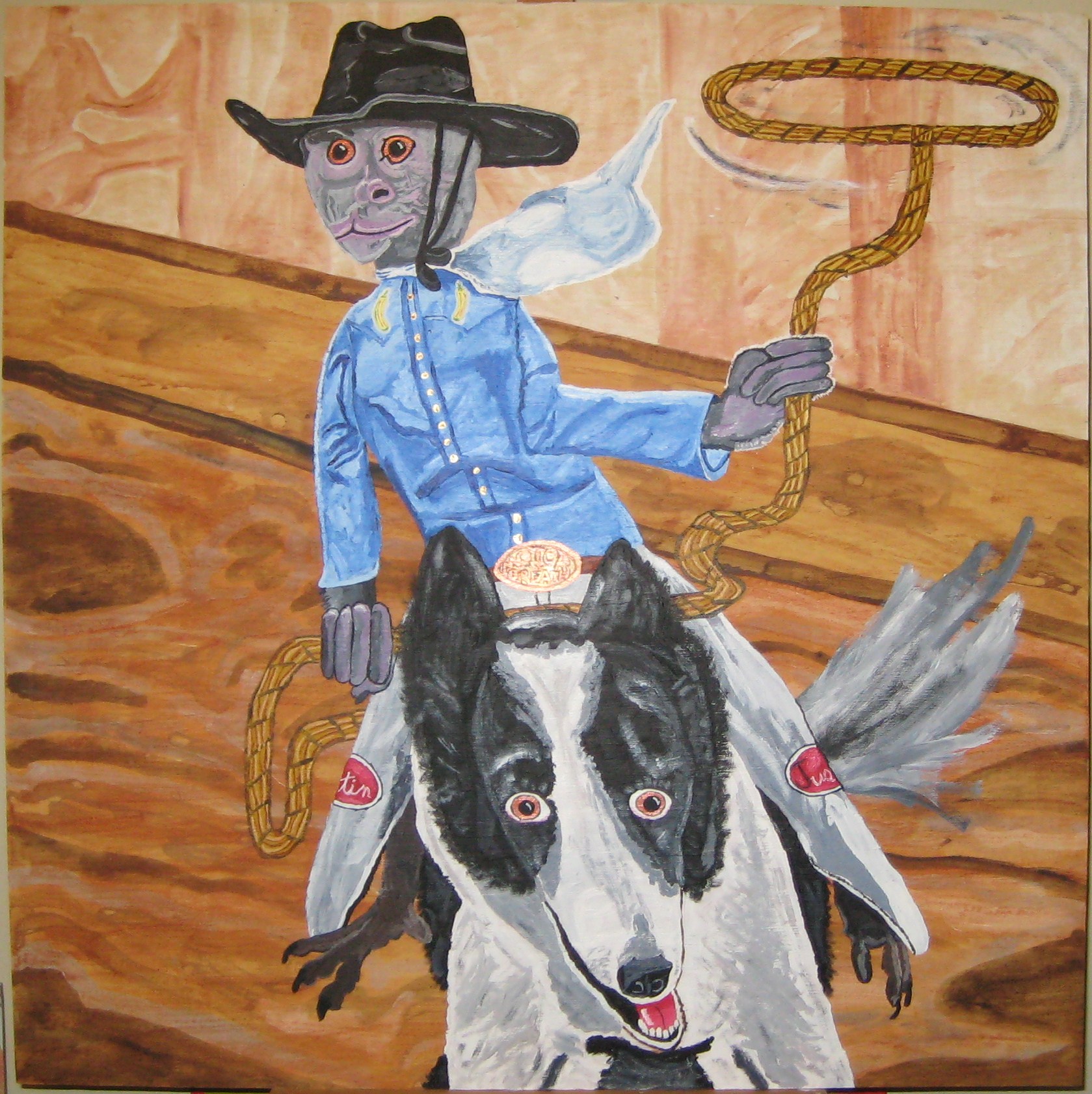 Motorbreath
Inspired by Whiplash, the rodeo Capuchin.
acrylic on found wood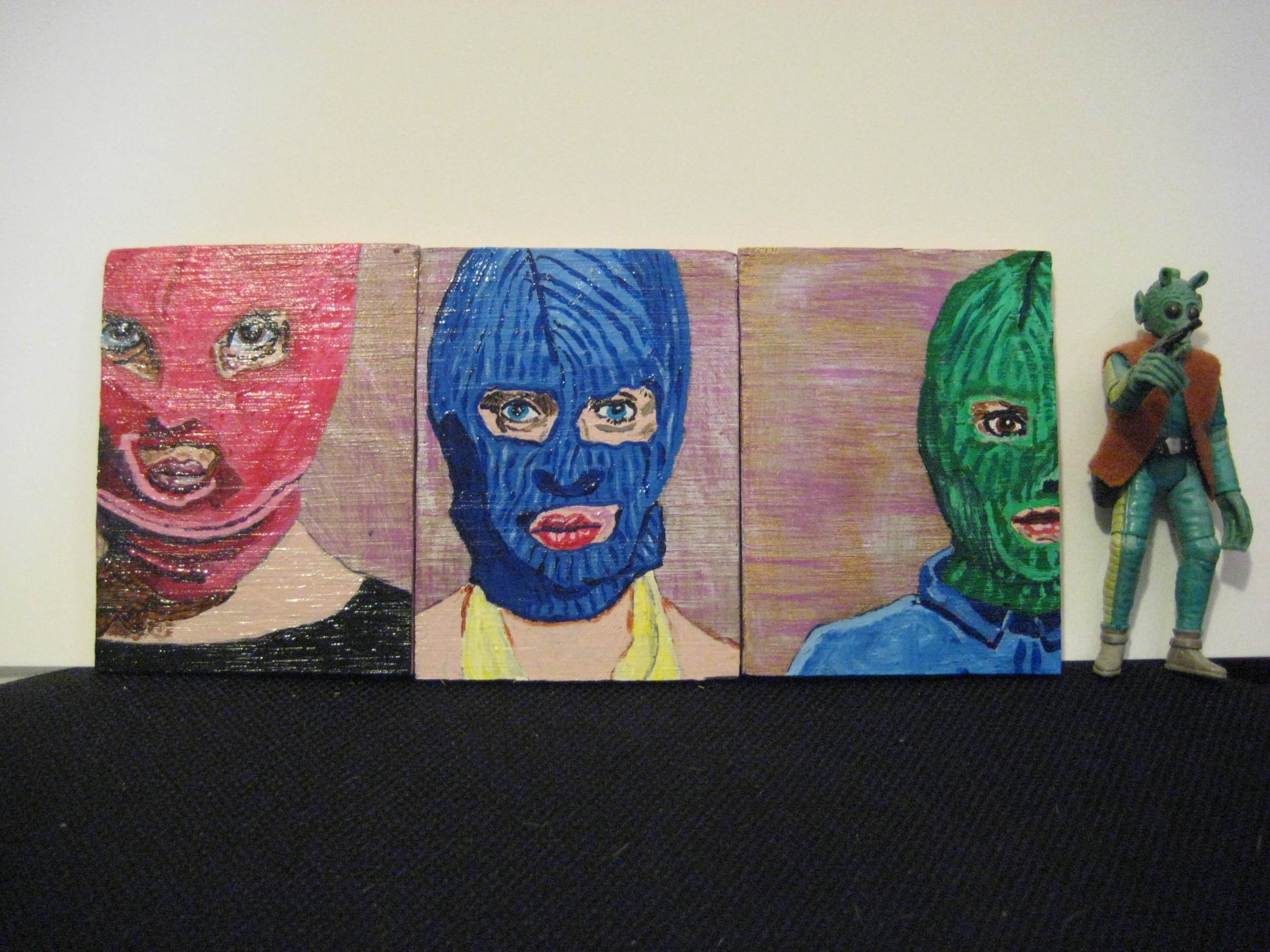 Hooliganism 1, 2, & 3
Painted for the Male Feminist Show held at the S. Dot Gallery in Columbus, OH during Jan & Feb of 2013.
They're 3" X 4" as can be seen from the standard size Greedo figure.
Guess They Weren't All That Lucky, Homeboy
Painted for the It's Saturday Morning Somewhere group show. Held at the Vanderelli Room on Jan 17, 2013 in Columbus, OH.
acrylic on found wood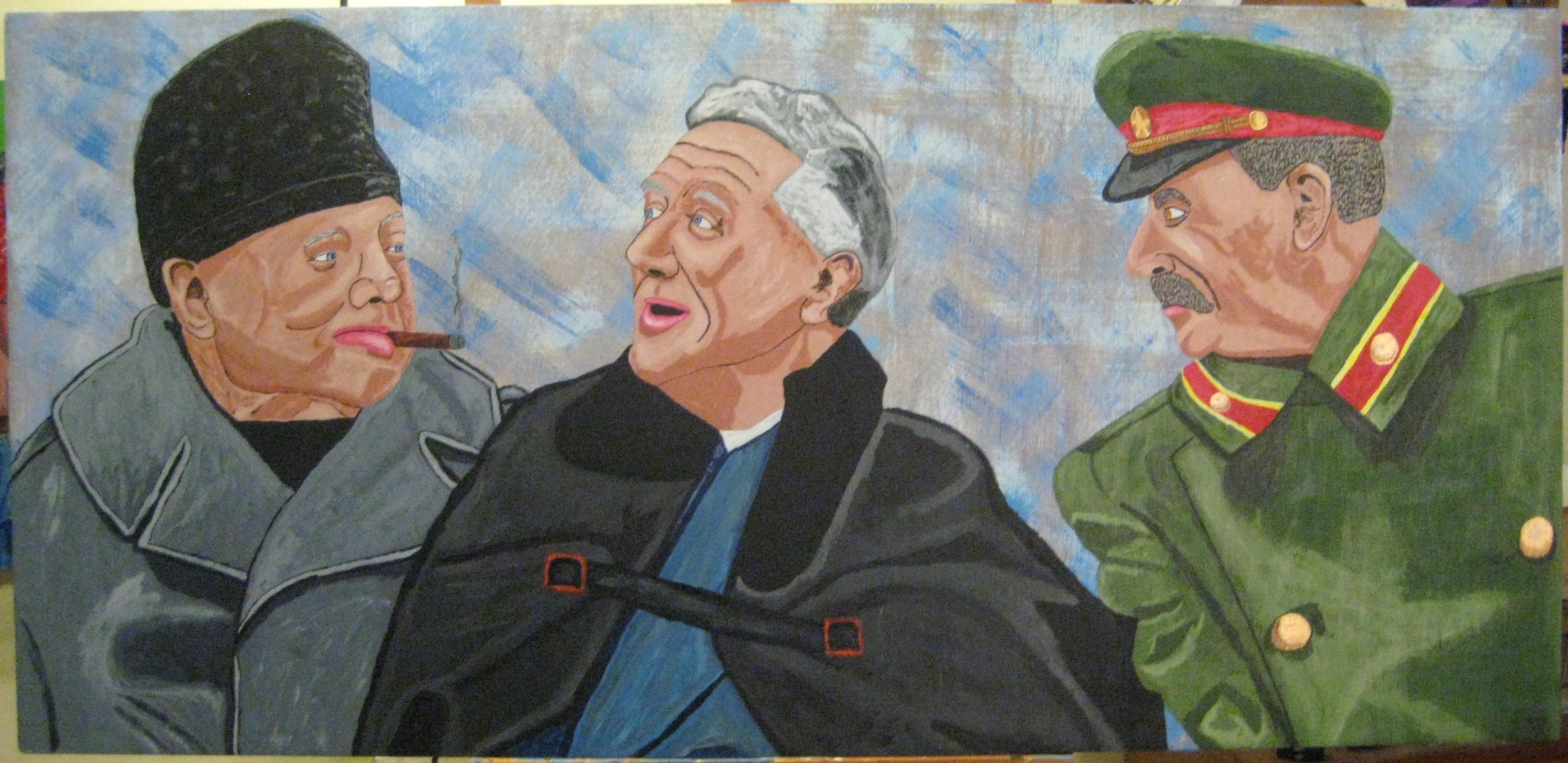 A Pretty Important Meeting
Commission for a friend who's a pretty solid unofficial WW II historian.
acrylic on found wood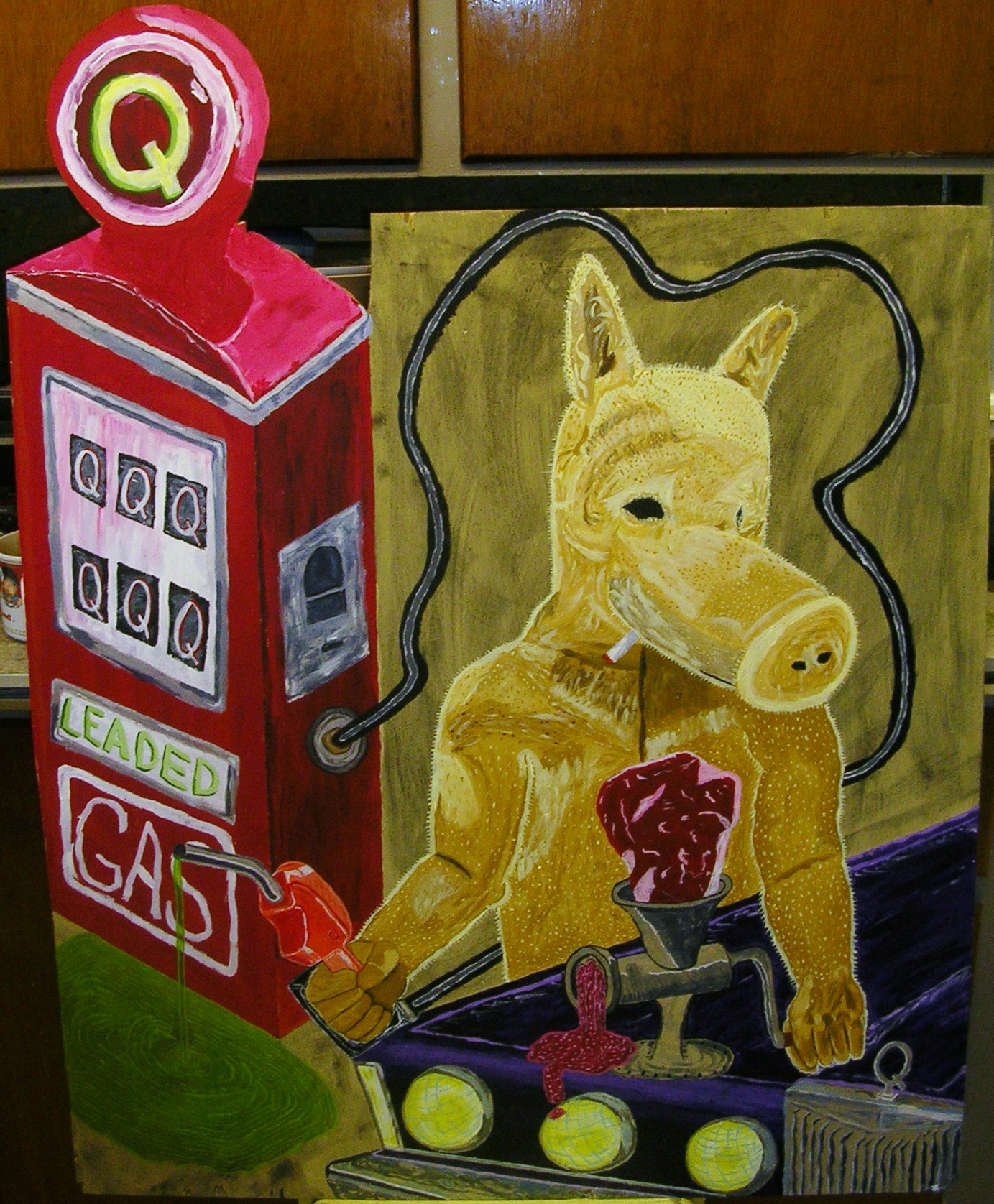 Multitasking
Quasimoto commission. Inspired by Quasimoto & the Bad Character.
acrylic on found wood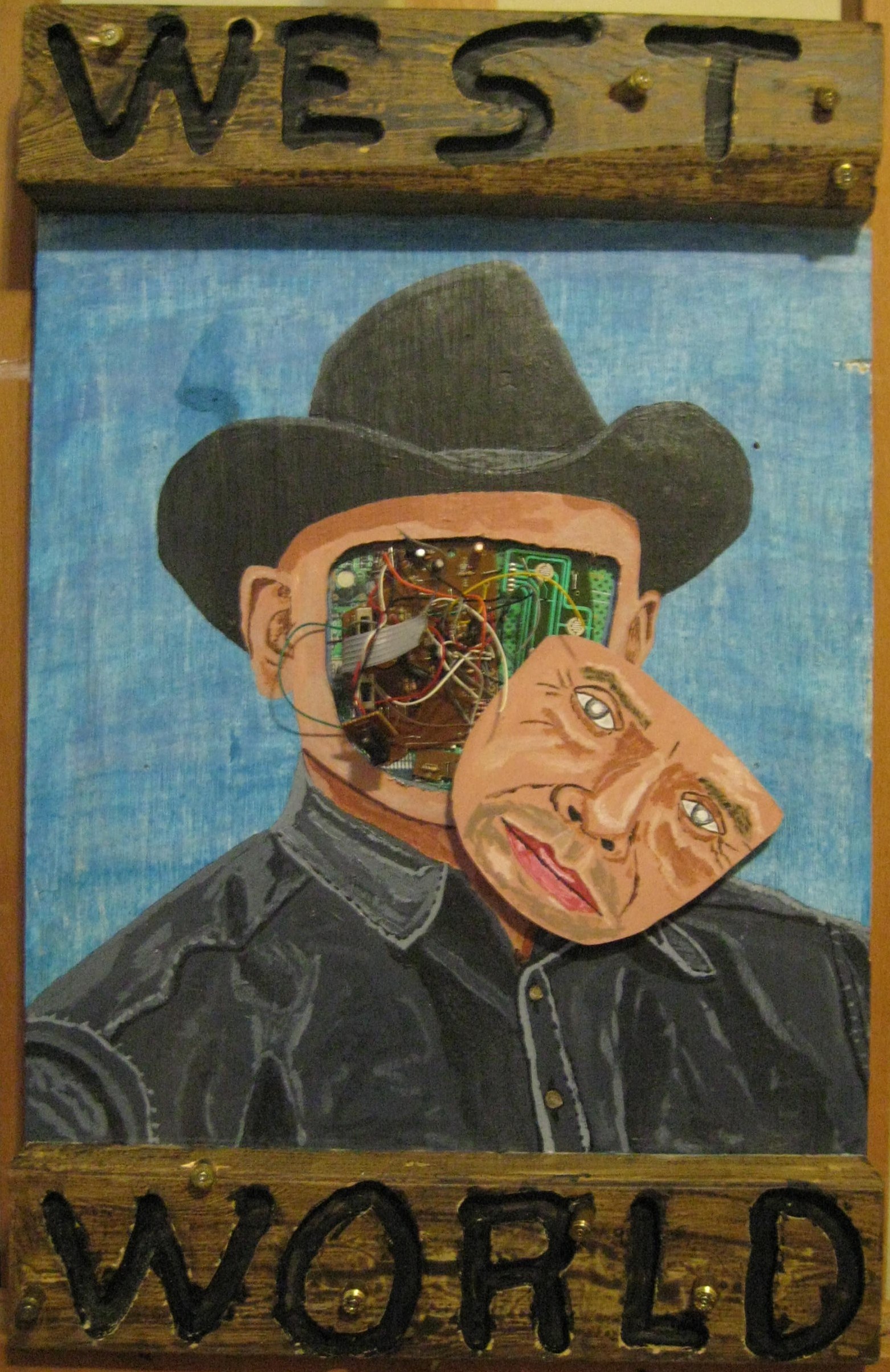 One Source of Childhood Anxiety
Painted for the R U Robot group show which took place at Gallery 831 in Columbus, OH on June 7, 2013.
Acrylic on found wood, shell casings, a busted up clock radio, & photos of circuitry.